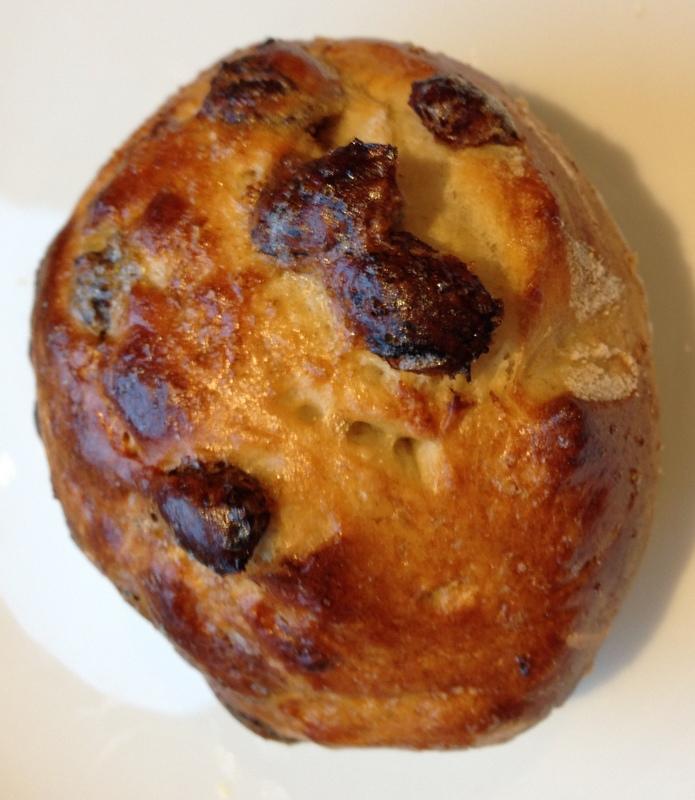 Speculaas raisin bun
Raisin buns are called 'krentenbollen' in Dutch - 'krenten' means currants.
A speculaas raisin bun has elements of a hot cross bun and a krentenbol: not only the raisins and currants are infused with vandotsch speculaas spice but also the dough.
What are spiced buns?
It is not known from where or why spiced buns first came into being. However, it is likely that they evolved throughout bakeries in Europe in the late 17th and 18th century, a time when most exotic spices became more commonly available.
The 'hot' cross bun is probably the most well-known manifestation of the spiced bun, and a great tradition has grown up around it in England. Hot cross buns are traditionally baked on Good Friday, although they can often be purchased at other times of the year.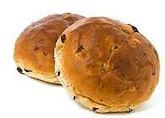 Krentenbollen
Until the early twentieth century, krentenbollen with a cross on top of them, were distributed to the poor at the end of a catholic burial.
Nowadays, that tradition has 'died out' and krentenbollen - without a cross - are eaten all year round, by young and old for breakfast, as a snack or with slices of cheese in it for lunch.
What follows is an overview of the ingredients that I used to make speculaas raisin buns, including - makes 24 small or 18 medium-sized ones:
For the filling
300g of dried raisins and currents

100g of dried apricots

zest of 1 lemon and 1 orange

5g (1 tspn)

vandotsch speculaas spice

a cup of tea
For the dough
500g flour

15g of dried yeast

3 large tbps caster sugar

300ml milk

2 eggs

10g of salt

50g butter

10g (2 tsp) vandotsch speculaas spice

Optional: Apricot jam (for glazing)
Directions
Cut the apricots in small pieces, about the size of the raisins
Make a fresh pot of tea (I prefer ginger tea) and put the dried raisins, currents and apricots to soak for at least ten minutes. Drain and dry carefully with kitchen paper. Mix one teaspoon of vandotsch speculaas spice in the mixture and put aside.
Bring the milk to the boil and allow to cool to hand temperature.
Mix the flour, yeast, sugar, salt, butter, eggs and vandotsch speculaas spice together in a bowl. Add the warm milk.
Knead the dough by hand or with a mixer with dough hooks (at the lowest setting) to form a sticky dough. The longer you knead the better the dough.
Shape it into a smooth ball and place it in a bowl under a clean tea towel for 20 minutes to rise in a warm place.
Add and knead the dried raisins, currents and apricots mixture into the dough.
Continue to knead until the dough is smooth and elastic and no longer sticks. Maybe you need to add some more flour, if it continues to be sticky. Shape it again in a ball and place the dough in a lightly oiled bowl, cover with the clean tea towel and allow to rise in a warm place for 1 hour or until it has doubled in size.
Tip: it is important that the speculaas raisin buns are the same size.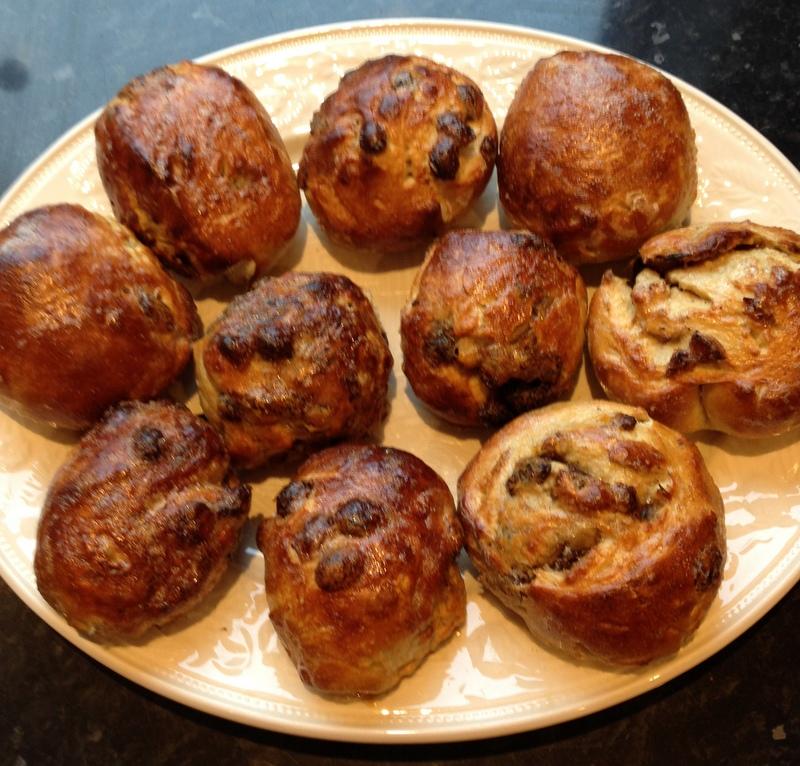 Divide the dough into 24 (or 18) equal pieces and roll each piece into a ball.
Place on a baking tray lined with parchment leaving enough space between each one.
Speculaas raisin buns shouldn't touch each other when they rise. Set aside for 1 hour to prove.
Preheat the oven to 200 degrees C.
Bake for 20-25 minutes. Let cool on a cooling rack
Tip: gently heat the apricot jam and glaze the buns when cooling down.
Here are some serving suggestions for your vandotsch speculaas raisin buns:
Just cut in two and add some butter.

Some butter and a few slices of Dutch cheese or Cheddar.

Go 'Dotsch overboard': spread some butter on your vandostch speculaas raisin bun and add a vandotsch speculaas biscuit.