Want Christmas in a bottle? Liquid gingerbread with a kick? Make your own vandotsch speculaas liqueur.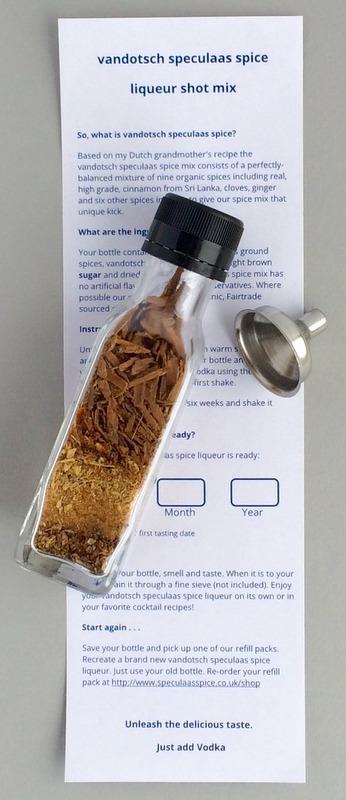 Just add vodka, shake it once a week, and your own speculaas liqueur based on our vandotsch speculaas spice mix recipe is ready in no time.
Impress your friends at your next cocktail party with your own "homemade" infused spirit.
What is vandotsch speculaas liqueur?
Some are describing it as liquid gingerbread with a kick or Christmas in a bottle.
How do you make it?
Easy, just add vodka to the bottle, using our little funnel included. Then, leave it to sit for six weeks or so. Shake it regularly.
After 6 weeks unscrew your bottle, smell and taste. When it is to your liking strain it and drink your first shot or mix it in one of your favourite cocktail recipes. Refrigerate after straining.
What if you want to make it stronger? Leave the bottle to sit for a few more weeks. Shake it occasionally. Or maybe even weaker . . . but why would you want to do that?
Be patient
You cannot drink your speculaas liqueur right after you have added the vodka. It will just taste of vodka.
You need to wait several weeks before tasting it. Just as wine, the liqueur must come to taste and that takes time.
What are the ingredients in the bottle?
Your bottle contains vandotsch speculaas ground spices, vandotsch speculaas spice mix, light brown sugar and dried orange.
Our speculaas spice mix has no artificial flavours, colours or preservatives. Where possible, both our ground and whole spices are either organic, Fairtrade sourced or both.