Make your own Dutch Sinterklaas biscuits or cookies with our large Sinterklaas mold and vandotsch speculaas spice pack. Included: 25g vandotsch speculaas spice mix with a large Sinterklaas wooden mould. Size of the wooden mold: 29 x 12cm.

Our speculaas Sinterklaas baking kit would make a perfect gift for young and old to enjoy making speculaas biscuits the 'old-fashion' way.

Included in the vandotsch speculaas spice Sinterklaas baking kit:
1 vandotsch speculaas wooden mold – large Sinterklaas; size of the mold: 29 x 12cm.

1 pack of vandotsch speculaas spice mix, and

an information sheet on how to treat the mold and how to make speculaas biscuits with the mold.
Want more detailed instructions?
Download our eBrochure "How to Make Speculaas Biscuits with Wooden Moulds in Five EASY Steps". Click below, prior to check out.
Sinterklaas wooden mold
Speculaas biscuits are the mirror image of the carved wooden moulds they are baked in. The mould is the old-fashioned cake form that the baker used in order to make speculaas biscuits. The mold contains the relief of Sinterklaas.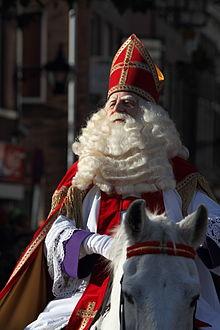 Sinterklaas or Sint-Nicolaas is a legendary figure based on Saint Nicholas, patron saint of children, a fourth-century Greek bishop and gift-giver of Myra. He is depicted as an elderly, stately and serious man with white hair and a long, full beard.
He wears a long red cape over a traditional white bishop's alb and sometimes red stola, dons a red mitre and ruby ring, and holds a long ceremonial shepherd's staff with a fancy curled top. He traditionally rides a white horse.
Sinterklaas carries a big, red book in which is written whether each child has been good or naughty in the past year.
Sinterklaas celebrations
The feast of Sinterklaas celebrates the name day of Saint Nicholas on 6 December. The feast is celebrated annually with the giving of gifts to the homes of well-behaved ("good" or "nice") children on St. Nicholas' Eve (5 December) in the Netherlands and on the morning of 6 December, Saint Nicholas Day, in Belgium, Luxembourg and northern France. The tradition is also celebrated in territories of the former Dutch Empire, including Curaçao and Suriname.
In the Netherlands and Belgium the character of Santa Claus has to compete with that of Sinterklaas. Santa Claus is known as de Kerstman in Dutch ("the Christmas man") and Père Noël ("Father Christmas") in French. But for children in the Netherlands Sinterklaas remains the predominant gift-giver in December.
The modern Santa Claus grew out of traditions surrounding the historical Saint Nicholas, the British figure of Father Christmas and the Dutch figure of Sinterklaas.
The vandotsch speculaas molds are made from untreated European beech grown in plantations, rather than logged from a primeval forest. The moulds have been carved using traditional methods in an artisan environment in The Netherlands.

vandotsch speculaas spice mix
Based on my Dutch grandmother's sweet tasting spice mix, vandotsch speculaas spice mix contains organic high grade 'real' ground cinnamon from Sri Lanka (55%), organic ground cloves (14%), organic ground ginger (14%) and six other organic ground spices to give our spice mix that unique kick.
Allergy information

> Suitable for vegetarians 
> Free From artificial flavourings, colours or preservatives 
> Sourced from responsible producers with organic certification and in many cases fairtrade certification. 
> Gluten free 
> Milk free 
> Nut free 
> Sugar free 
> Salt free 

vandotsch speculaas spice mix is mixed and packaged in an environment where nuts and nut oil are used occasionally. 

Storage instructions
Store in a cool, dry, dark place, out of direct sunlight, e.g. in our 60ml glass Kilner jars.
Happy baking times ahead!
Enjoy making authentic speculaas biscuits with your windmill mould and vandotsch speculaas spice pack.
Want more windmill biscuits? Buy an extra pack.
Want to make more windmill biscuits with your wooden mould? Just click below and get 15% off an extra vandotsch speculaas spice pack.
Want to know how to make windmill biscuits?
Download our eBrochure "How to Make Speculaas Biscuits with Wooden Moulds in Five EASY Steps". Just click below.