Dutch biscuits for festive spice. Steven Dotsch tells Kerstin Rodgers about Speculaas, traditional Dutch spiced biscuits for the Food & Drink section of the Ham and High weekly - 14 December 2017.
A traditional Christmas biscuit from the Lowlands is likely something you have tasted at a cafe. It would have been a tiny Lotus cookie tucked by the coffee cup on your saucer. This spiced biscuit is called Speculoos (Belgian Flemish) or Speculaas (Dutch).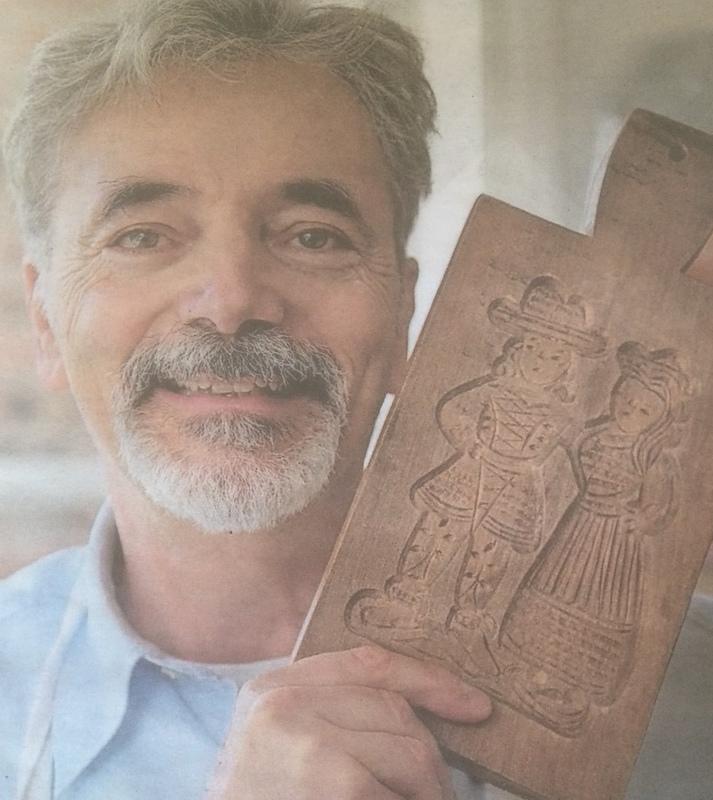 Dutchman Steven Dotsch sells both the speculaas spice and the wooden moulds via his home business.
Coincidentially, he is based in the street where I grew up, Highgate's Cholmeley Park. I watch Steven bake while he explains the history.
"Speculaas are spicier than speculoos. I use my grandmother's recipe, which has nine spices, but generally they have between five and seven."
"The biscuit originated in Holland. In our Golden Age, the 17th-18th century, colonies such as (nowadays) Indonesia and a monopoly on spices meant Dutch bakers got a good price. Belgian bakers couldn't afford the spices so used only one spice, cassia bark, which was cheaper."
"The original wooden moulds were pagan, but developed into engravings of Saints which people used as altar offerings. These are difficult to find - people burnt them during the Reformation. Afterwards only animals, plants or windmills were used for the carvings. These picture biscuits were very popular at fairs."
"I have a 19th century mould, 'The Lovers'. If a young man wanted to marry a girl, he'd bake from the lover mould then decorate the biscuit. If the girl accepts the gift, she is interested. Families would keep wooden moulds as heirlooms."
To use traditional wooden moulds for the first time prepare them by brushing the interior of the mould with oil (almond, vegetable or flaxseed). Leave to dry for a couple of days. Then repeat. Never wash them.
It's worth buying good quality wooden moulds such as those from Steven at Speculaasspice.co.uk
Return to Speculaas Spice Recipes