Speculaas chocolate fudge
Early November 2016 I started experimenting on how to make fudge. The end result: speculaas chocolate fudge.
Fudge is a popular type of confectionery in the USA and the United Kingdom.
Originally, fudge is made by mixing sugar, butter and milk (in the UK: clotted cream), heating it and than allow it to cool so that it acquires a smooth, creamy consistency.
Fruits, nuts, caramel, candies, and other flavors are sometimes added either inside or on top.
Having succeeded in making 'simple' fudge I than started to add my favourite ingredients, including:
vandotsch speculaas spice

vandotsch speculaas spice infused biscuits

white chocolate

milk chocolate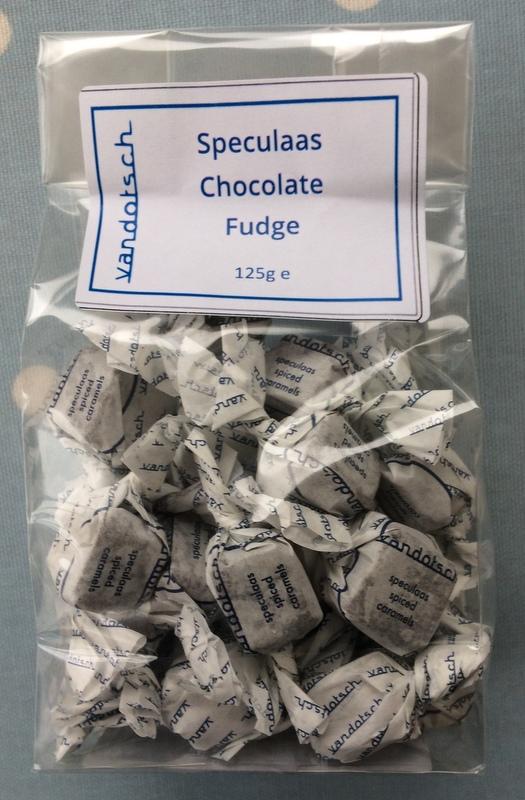 For the pre-Christmas 2016 period I made several slabs of speculaas chocolate fudge.
I cut them in pieces, wrapped them in fat-free food grade paper (the same I used for vandotsch speculaas caramels) and sold them in packs of 125g at several Christmas markets.
They sold out quickly!
vandotsch speculaas spice infused speculaas chocolate fudge has since become part of my offering when doing markets.
What follows is an overview of the ingredients I used to make vandotsch speculaas chocolate fudge, including:
Makes approximately 25 - 30 pieces
Ingredients
175g milk chocolate

175g white chocolate

1 x 397g condensed milk

30g unsalted butter

1/4 tsp salt
Directions
Line a brownie pan or square tray with baking paper and grease lightly
Break up the white chocolate and place in a bowl. Do the same with the milk chocolate in another bowl
Break up the the speculaas biscuits in small bits. Divide equally the salt, butter, speculaas spice and condensed milk over the two bowls
Melt the 'speculaas-milk-chocolate' mixture 'bain au marie'. Stir well until well combined. Pour the mixture into the tray, smoothing the top with a wet palette knife
Do exactly the same with the speculaas-white-chocolate mixture
Let the fudge cool, then refrigerate until set
Cut into pieces approximately 3cm x 2cm.
Once cut, the speculaas chocolate fudge can be kept in the fridge. Freeze for later use.
Back to Speculaas Spice Recipes