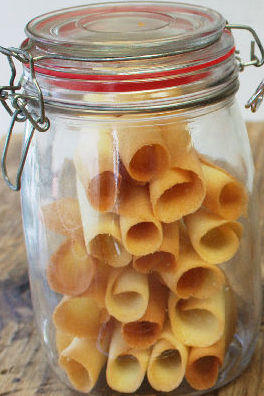 Speculaas tuiles
I never saw that one coming . . . . a speculaas tuiles recipe from 'part-time' emigre Sarah James, author of blog Tales from the Kitchenshed
So, you may be asking yourself, what's a 'tuile'?
Well, I remember them fondly, in Amsterdam, when in my somewhat younger years, my sister and I 'gorged' on them regularly as they were sort of a favourite of the family Dotsch.
But that aside, infusing a tuile with vandotsch speculaas spice mix is an absolute first, at least for me.
Tuiles are thin cookies named for and curved like the tuiles, or tiles, that line the rooftops of French country homes, particularly those in the Provence.
Sarah is an experienced home cook, now sharing her time between England and France after spending seven exciting and challenging years living in a caravan, a collection of sheds and a "magic bus" in a tiny hamlet in Southern Brittany.
Growing and cooking food for family and large groups of visitors in France, Sarah remains the "hands on" provider she was in her native England. Whilst abroad, Sarah's English cooking has proved popular with French and English alike, selling home-made produce at food markets and providing cakes to a local French owned restaurant.
Did you like your vandotsch speculaas spice infused tuiles?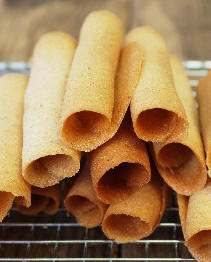 "My homemade tuiles are generally flavoured with almond or vanilla (depending on the dessert) but adding the vandotsch speculaas mix enhanced my tuiles to another level with the deliciously aromatic blend of cinnamon, ginger, cardamom and cloves." Sarah
Tuiles are commonly added as garnishes to desserts such as pannacotta or used as edible cups for sorbet or ice cream. Or, eaten as finger food!
To get a curved shape, tuiles - the cookie version - are usually made on a curved surface, such as a wine bottle or rolling pin. In France, tuile molds are also sold. Tuiles must be curved while they are hot, otherwise they will crack and break.
What follows is an overview of the ingredients that Sarah used to make the vandotsch speculaas tuiles, including:
Makes approximately 36 speculaas tuile biscuits
Ingredients:
2 egg whites

125g (¾ cup) caster sugar

60g (½ cup) plain flour

7.5g (1 ½ teaspoons teaspoon) of vandotsch speculaas spice mix or 1 teaspoon vanilla extract

60 g (¼ cup) butter, melted and cooled

Optional: Flaked almonds
Directions
I refer to Sarah's write-up for directions on how to make her vandotsch speculaas tuiles.