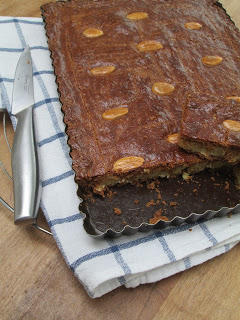 vandotsch speculaas cake = "gevulde speculaas koek"
vandotsch speculaas cake is a 'classic Dutch recipe traditionally made for Sint Nicolas day (December 5th) in The Netherlands.
As it is a great cake and easy to make, obviously, there is no reason why you can't make it all year round. I for one do so to much acclaim.
By the way the Dutch word '"Gevulde" means stuffed, in this recipe traditionally with almond paste, for which I have a separate recipe. And "koek" is cake.
Here are the ingredients I used to make vandotsch speculaas cake
Makes approximately 30 pieces
Ingredients:
400 grams almond paste

250 grams all purpose plain flour

10 grams (2 teaspoons) baking powder

150 grams unsalted butter

125 grams sugar

25 grams (5 tea spoons) of vandotsch speculaas spice mix

60 ml milk

a pinch of salt

1 egg

as many almonds to decorate on top
Directions:
Put all the ingredients (except the almond paste) in a bowl, reserving half of the whisked egg to use later as a glaze. Cut the butter in small pieces and put in the bowl. Knead until smooth
Insert the dough in clingfoil or a food rate plastic bag and put in the refrigirator for at least one hour
Preheat the oven to 175°C
Divide the dough in two parts. Insert the first part in a baking tray. Spread the almond paste on the dough
Insert the other half over the almond paste and make the edges closed
Spread some almond nuts over the top and cover the cake with remaining egg wash
Place the baking tray in the oven for about 50 to 55 minutes at 175°C
Take the speculaas cake out of the oven, allow to cool, cut into pieces, grab a coffee or a hot chocolate and enjoy!
Tip: the vandotsch speculaas cake taste best one or two days after baking as it becomes "very moist as well as more-ish on day two.